(deze blog zal weldra in het Nederlands beschikbaar zijn)
Recently I went skiing with my family in the French Alps. It's now possible to avoid those 8 long hours' drive, on crowded roads. These days, you can take one of those marvelous low cost flights, that bring you from Brussels to Geneva in less than one hour… Arriving in Geneva, you just rent a car and one hour later, you're at your destination, with the snow crunching under your feet! But that's the bright side…
On Sunday afternoon, we returned our skis to the shop, and jumped in the car to drive back to the airport.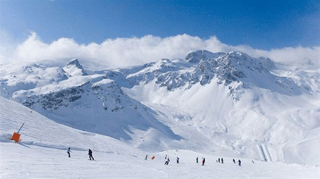 Arriving in Geneva I deposited my rental car, and went to the registration desk. And that's when it all started… The French air traffic controllers had gone on strike, and all flights coming from or passing above France where stuck on the floor! So I heard that my flight was cancelled. In fact all flights were cancelled, and a huge amount of people were stuck in Geneva until the French controllers decided to stop.
Should I have known, should I have been informed … I would have kept my car, I would have driven straight to Belgium with this rental car. But it was too late, as all the rental agencies were under the assault of hundreds of desperate travelers. If I had known!
At that moment, I looked at the low cost flight app on my mobile, and indeed, it mentioned that my flight was cancelled!
In fact, I missed a lot of information:
First of all, the number of planes expected in Geneva had dropped considerably during the day. If I would have been notified, a quick look at the arrival site from Geneva airport would have woken me up.

Further, the number of available rental cars dropped dramatically in the last few hours. If I would have been notified, a quick look at my favorite rental agency would have woken me up.

And lastly, the number of available seats in the train from Geneva to Brussels had dropped as well. If I would have been notified, a quick look at the Train website of Geneva would have woken me up.
Push Intelligence - getting on time notifications, based on certain indicators passing a threshold (such as number of planes or delays expected) and pushing that information to me- would have woken me up on subjects that matter to me. And this is what I miss in today: it would have given me a hint to go into the application to check, and give me some time to find alternatives.
This is an example about something I experienced personally, but in our professional life, we can find so many applications where push intelligence technology will help us to not just make better decisions, but especially take action, at the right moment, when it's not too late.
It's time to turn our data into action, make data active instead of passive, and 'push the data to speak', to be notified and start analyzing what you need to know, and especially … act!
Maybe you're taking the car when you go skiing, but I bet that professionally you miss out on certain decisions … because nobody told you – on time. Have a look at Push Intelligence. You won't regret!
To get a good intro to what Push Intelligence can do for you, we've organized a one hour webinar introduction. Register now!
Terug naar blog-overzicht