Agilos has hosted 5 events over the last few weeks, taking place in Brussels, Gent, Kortrijk, Liège and Luxemburg.
Keynote speeches

from Agilos helped delegates discover the importance of connecting people, data and ideas from across their organization in order to uncover new data-driven possibilities. Through live demonstrations and by getting hands-on with the products, attendees could see why Qlik's platform is uniquely positioned to help organizations unlock the full potential of analytics to ignite growth, accelerate results and optimize ROI.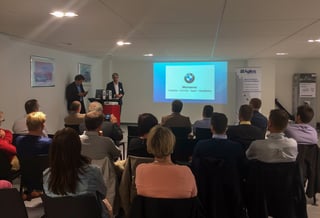 But the highlights came definitely from live testimonials of Bubble Post, BMW Monserez, Mactac, Physiol and WSI. Not only did those
customers share their story about their business challenges and how they address them with a Qlik Sense based solution, but they also gave a live demo of their production applications.
Alongside the chance to gain exclusive insights into Qlik's product roadmap, attendees leveraged the opportunity to network with peers, customers and experts, and could discover why Qlik was ranked as a leader in BI for the 6th year in a row in this year's Gartner Magic Quadrant.
In some of the events, attendees could win a weekend with a Tesla or BMW i8 or even test drive themselves a BMW i8 at BMW Monserez.
Interested in test driving Qlik Sense? Please let us know.