Agilos and SIRIUS Insight join forces to help customers to get better insight in the performance of their Points of Sale

Brussels, 1 June 2016 – Agilos, the leading expert center for innovative BI in Belgium and Luxemburg, and SIRIUS Insight, a data & advanced analytics consultancy company that allows their clients to optimize sales & marketing performance of their touch point channels, have jointly developed Touch Point Insights.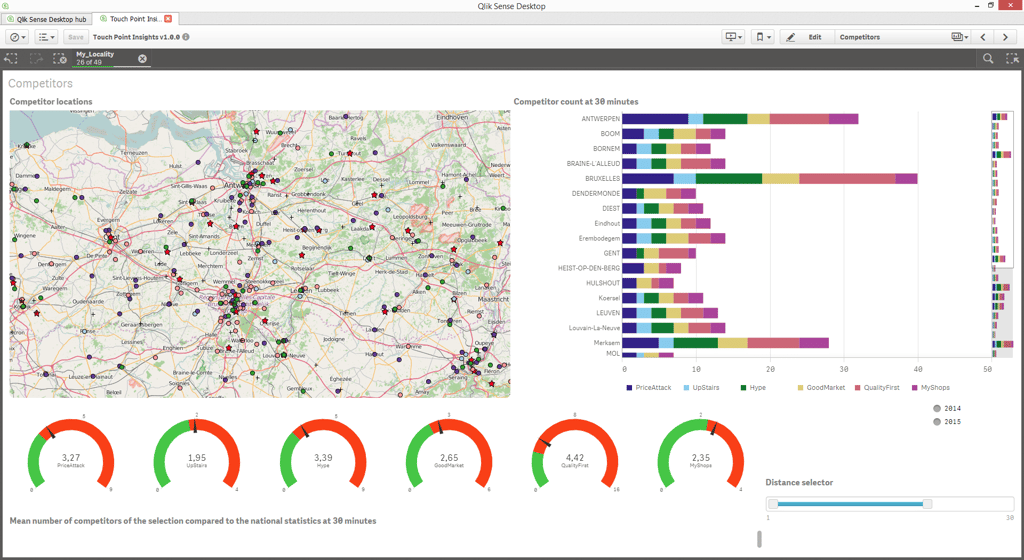 Touch Point Insights is an interactive dashboard solution that gives companies with retail channels a simple and easy-to-use overview of key business parameters to pilot sales, marketing and network development. Touch Point Insights is a full-service, hosted solution including regular updates of client data and market benchmark data.
"Our mission is to help businesses to become more competitive and agile through a smarter and better use of their data. By combining internal data –in this case transactional information about customer purchases- with external data –consumer information about social status, location etc-, a company can now have better visibility on their retail channel", says Gilles Hocepied, Managing Director of Agilos. "The expertise of SIRIUS Insight and their Mosaic Belgium consumer segmentation is an ideal case for companies with a retail channel to get more value out of their customer transaction data".
Classic marketing segmentation is based on observed buying behavior of existing customers, while online segmentation focuses on the online behavior of web visitors. These approaches, however, do not allow to predict the market potential of a company. Mosaic Belgium consumer segmentation offers this possibility, by segmenting the Belgian households based on their socio-demographic characteristics, living conditions and location. By combining this information with customer purchase information, a company now gets a deeper insight into their market presence versus its potential, and helps them decide where to open or close points of sale, or run marketing campaigns in areas with a low market penetration but high potential.
"We are already offering these insights on a project basis to retailers, car wholesalers and other companies with a retail channel", says Ronald den Ouden, Partner at SIRIUS Insight. "The expertise of Agilos to combine all this information into a modern state-of-the-art dashboard helped us to develop Touch Point Insights. Companies now have a complete, geographically enriched dashboard that combines information about their customers, their retail channel and the market potential".
Touch Point Insights is built using Qlik's modern Qlik Sense platform technology. By integrating GeoQLik in this solution, a company can now visualize all this information and come to better insight about where to grow their retail channel or in which regions to boost marketing efforts, based on market potential, current customer purchases and location of competitive retail outlets. Alteryx, a data blending and data integration technology, assures seamless integration of all this data into a dashboard that enables a sales or marketing manager to make better decisions related to their sales channel and marketing efforts.
About Agilos - Agilos is a leading innovative BI expert center in Belux. As Elite Qlik partner, we are a reseller and provide expert services covering the end-to-end BI life cycle, from strategy to design, development, implementation, deployment, support and training. Our focus is on short time-to-value and knowledge transfer. Our more than 300 happy customers -amongst them 8 of the 10 largest Qlik customers in Belux- include Belfius, European Commission, GDF Suez, KBC and Umicore, but also smaller companies such as Stuv, Viangro, Jost Group and Eurobus. Agilos has 25 employees and 2 offices in Brussels (Belgium) and Strassen (Luxemburg). http://www.agilos.com.
About SIRIUS Insight - SIRIUS Insight provides data & advanced analytics consultancy that allow their clients to quantify the business potential of their offering. By combining unique data, expert platforms and best-in-class consumer and customer analytics SIRIUS Insight provides its clients with insight and understanding allowing them to optimise sales & marketing performance. For more than 25 years we work in Belgium and abroad for large and small companies in various sectors and help them to optimise their sales & marketing. http://www.siriusinsight.be/
©2016 Agilos. SIRIUS Insight. All rights reserved. Qlik is a trademark of QlikTech. Alteryx is a trademark of Alteryx, Inc. GeoQlik is a trademark of Business Geografic, a business unit of Ciril GROUP.