... you know that the process of preparing multiple sources or blend them together is a slow and painful process. Alteryx is innovative technology that helps you do this in a drag-and-drop way. Register now for a free workshop on 28 April in Brussels.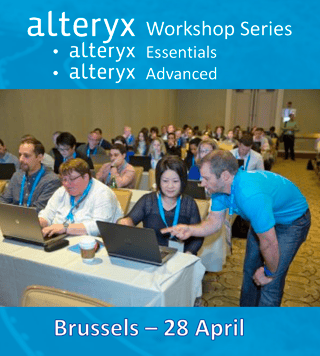 As Agilos, we decided to bring this new technology to the Belgian and Luxemburg market. We're organizing free workshops that will help advance your career and enable your organization with better decision making through self-service data analytics.
Analysts love the Alteryx analytics platform because they can deliver deeper insights by seamlessly blending internal, third party, and cloud data, and then analyze it using drag-and-drop tools. This is all done in a single workflow, with no programming required.
To explore this fascinating data analytics technology, we're organizing 2 workshops: a morning session 'Alteryx Essentials' will give you a hands-on introduction to Alteryx. If you're interested to further explore more advanced capabilities –such as spatial and predictive-, we're organizing that same afternoon the 'Alteryx Advanced' workshop. Both workshops focus on the hands-on aspects. No bla-bla. But you'll leave the workshop having built your own workflows and analysis.
We offer these workshops for free since we're convinced that, once you've 'touched' the solution, you'll be convinced of the power of it. For these workshops, you can download a free trial version of Alteryx, or if needed we can prepare a laptop for you for the workshop.
You'll start by hearing how data preparation and analytics have evolved from brittle spreadsheets and complex coding to a more efficient way to prepare and analyze data. Then, you'll experience that efficiency firsthand as you use Alteryx to create your first workflow to prepare, blend and analyze data using your laptop.
Before you leave you'll see how Alteryx can help you to
Connect to and cleanse data from spreadsheets, data warehouses, cloud applications, and other sources
Easily join data from multiple sources, and repeat the process on demand using new data
Perform analytics — predictive, statistical and spatial –using an intuitive user interface, without writing code
Since places are limited, we recommend not to wait to register.