---
Each year (almost) the same?
It is this time of the year. The updates for several of the Gartner Magic Quadrants are there. Although I don't look as much forward to them as towards my yearly big vacation with the family, it's still interesting to see how each of the key players have (slightly) moved. But this year, there's one thing that really grabbed my attention.
But first...
Let me comment on the 'slightly' in the former phrase. Even if a company comes with a great new idea, product, vision or whatever, the impact on their position in the Gartner quadrant will be relatively limited. Vendors only move their position little by little. The Gartner algorithm used to calculate the position of each and every vendor is their secret sauce, but it is clear that a considerable change in the quadrant is a matter of change in vision, capability to execute, but also time.
So in this year's (2015) Magic Quadrant for Business Intelligence and Analytics Platforms ... no big news.
But there's one thing which really struck me: Through 2016, less than 10% of self-service business intelligence initiatives will be governed sufficiently to prevent inconsistencies that adversely affect the business.
Yikes!
In other words: most of the companies who try to deploy self-service BI will potentially cause business damage...
Does that mean you should stay away from self-service BI? Definitely not. The business benefits outweigh the risks, but here's the point: Self-service BI without a good governance strategy is like driving a car without your seat belt on.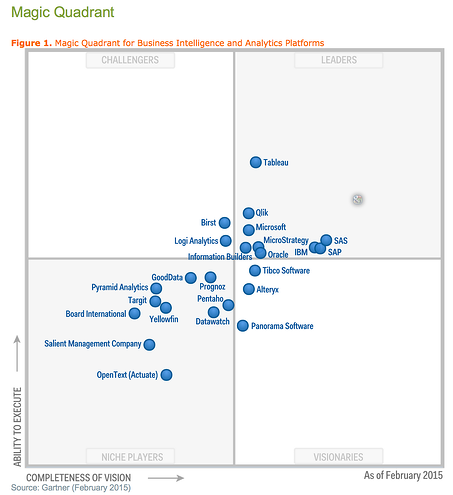 So...
Here's the risk of self-service BI. It's so tempting to quickly roll it out in your company to start satisfying your more advanced business users ... but beware. Make sure to put in place a good governance strategy that is adapted for agile BI and self-service users. And like with learning to drive a car: take some driving lessons first - it will get you started a lot faster and without accidents.
Interested in a complimentary copy of the Gartner report?
Get your complimentary copy of Gartner's report for in-depth analysis of the BI market (Gartner; 2015 Magic Quadrant for Business Intelligence and Analytics Platforms).
---