Silicon Master ERP customers get better insight thanks to a global Qlik dashboard solution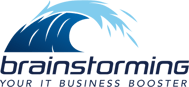 Brussels, Ans, 28 March 2017 – Agilos, a leading provider of innovative BI expertise and solutions in Belgium and Luxemburg, has signed a solution provider agreement with Brainstorming, a consultancy company implementing ERP Silicon Master as well as the accounting software solutions Sage, BOB50, WinBooks and Popsy. Silicon Master, edited by Silicon Brain, is a recognized ERP solution tailored for small and medium enterprises.

Working in close collaboration with Silicon Brain within 'The Brain Group', Brainstorming has become one of the biggest centres of expertise in French-speaking Belgium for ERP management (production, project, technical service and logistics). "For more than 25 years, we have acquired a unique know-how and implemented our ERP solutions in more than 250 sites, counting over 7000 users", says Benoît Claeys, CEO at Brainstorming. "With this Qlik-based dashboard solution, we take it a step further. Our customers will now have a global view of their Key Performance Indicators (KPIs), helping them to better analyze their environment and take business decisions faster, based on facts."
Gilles Hocepied, Managing Director at Agilos, sees this partnership in line with today's manufacturing market trends. "Companies want to operate leaner, smarter and more efficiently. To do that, making faster and more profitable decisions is inevitable. Thanks to this Qlik-based dashboard solution, Silicon Master customers can not only track KPIs based on information stored in their ERP system, but it can seamlessly integrate information coming out of their accounting system, CRM or even good old Excel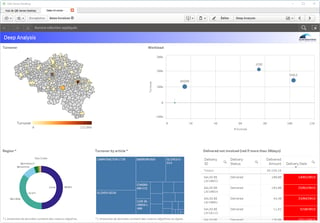 files," says Gilles Hocepied. "Because this multi-source data access is completely transparent for the end user, he has now a global view on all important elements, making decision taking a lot easier and faster."
"We are delighted to partner with Agilos", says Benoît Claeys of Brainstorming. "Since we'll also offer this dashboard solution in the cloud, or even hybrid environments, Agilos' expertise of deploying new generation BI solutions in complex environments will help us offer a solution to the customer that is best fit to his needs."
About Agilos - Agilos is a leading provider of innovative BI expertise and solutions. We help you collect, prepare, associate and visualize your data, so you can discover, analyze and predict. Our mantra is 'Valorize your Data'.
As Elite Qlik partner, we are a reseller and provide expert services. Our best-of-breed portfolio includes Qlik, Alteryx, GeoQlik and several other innovative and complementary technologies. We also offer Analytic Apps for Healthcare, Accounting, HR, Sales & Marketing and Dealer Networks.
Our more than 400 happy customers include Atlas Copco, AXA, Engie, European Commission, KBC and Umicore, but also smaller companies such as Stuv, Viangro, Jost Group and Eurobus. Agilos has 30 employees and 2 offices in Brussels (Belgium) and Strassen (Luxemburg). http://www.agilos.com.
About Brainstorming – Brainstorming has become over the last 25 years one of the biggest centers of expertise for ERP solutions in French-speaking Belgium. Through our four departments, we specialize in ERP management, accounting software, infrastructure management and cloud offerings. Our mission is to help our customers maintain their performance and advise them in their strategic choices enabling them to gain productivity and efficiency. http://www.brainstorming.be/.
©2017 Agilos. All rights reserved. Qlik is a trademark of QlikTech.