Agilos' Innovative Business Intelligence focus awarded by Qlik Benelux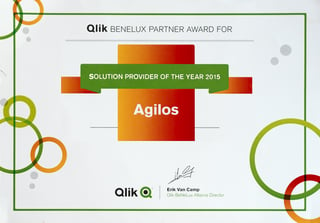 ORLANDO, Florida, US, 4 May 2016 – Agilos, the leading expert center for Qlik in Belgium and Luxemburg, has been rewarded by Qlik for its stellar contribution to the success of Qlik in the Benelux. This award was given during Qonnections 2016, Qlik's worldwide partner and customer summit, which was organized this year in Orlando, Florida.
"It's impressive to see how Agilos' focus on expertise and solutions built on Qlik technology has made them the premier Solution Provider in the Benelux. Their customer success is proof that Qlik is ready for prime time market leadership in the BI market. I'm convinced that Agilos' commitment and dedication will help us to translate Qlik's strong vision around visual analytics into Enterprise BI leadership in Belgium and Luxemburg", says Sabine Palinckx, Country Manager Qlik Benelux.
Agilos' technology and solutions offerings are built on innovative business intelligence technology, including Qlik software and 3rd party extensions, Alteryx and Metric Insights.
"We founded Agilos in 2009, with the intention of offering innovative solutions to help companies in their decision making processes. Our focus on customer success and short time-to-value pays off", says Gilles Hocepied, Managing Director of Agilos. "It is however the combination of our business and technology expertise that turns it into winning solutions for our customers."
About Agilos - Agilos is the leading expert center for Qlik in Belgium and Luxemburg. As Elite Qlik partner, we are a reseller and provide expert services covering the end-to-end BI life cycle, from strategy to design, development, implementation, deployment, support and training. Our focus is on short time-to-value and knowledge transfer. With 15 Certified Qlik developers we are the largest Qlik solution provider in Benelux. Our more than 300 happy customers -amongst them 9 of the 10 largest Qlik customers in Belux- include Belfius, European Commission, GDF Suez, KBC and Umicore, but also smaller companies such as Stuv, Viangro, Jost Group and Eurobus. Agilos has 25 employees and 2 offices in Brussels (Belgium) and Strassen (Luxemburg).