BIA, a leader in equipment sales and servicing for mines, public works, recycling, handling and energy production, decided to implement SAP to offer their customers a sustainable value add. With manual processes being automatized, more data became available. Time to consider a company-wide solution for business intelligence and analytics.
The challenge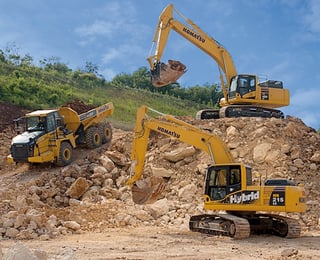 With a strong focus on sustainable value creation, BIA continuously wants to build professional and flexible organizations. That's why they decided to roll-out various SAP modules across the entire organization. As more data became now available, there was a need to improve business performance by providing visual insight across functions globally.
BIA decided to evaluate three solutions, including the SAP BI solution. Quentin Scouflaire, General Manager BIA Group: "Our main selection criteria were ease-of-use and maintenance costs." The solution had to be agile with a focus on business insights and business outcomes.
Qlik and Agilos
Bia chose for the Qlik platform, implemented on top of SAP. But they also realized it was essential to make the right choice for an expert services provider. The complexity of multi-source integration, the importance of the right interface design, alignment with the business and focus on short time to value were key elements in choosing for Agilos to partner with.
The involvement of business owners combined with Agilos' methodology and expertise helped to ensure that all dashboards perfectly satisfy business requirements and are easy to maintain. For this, Agilos proposed their project, data and application governance approach, which ensures the coherence and the quality of all dashboards across the organization.
The result
BIA now has the advantage of a coherent and central management information system which gathers data from all the different SAP modules and other ERP-systems still in use at some of the entities. "Data from multiple sources are brought together in dynamic, visual applications that can be navigated and searched intuitively. We use Qlik in every business function and in each geography with the ability to produce global pictures as well. We can now judge ourselves like a customer would judge us, in all aspects of our business."