Agile BI has proven its benefits in today's fast changing economy. A traditional BI approach is not capable coping with today's fast changing requirements. Agile BI on the other hand provides the speed and flexibility to quickly adapt to internal changes but also allows to respond to external events such as competitive pressure in a timely manner.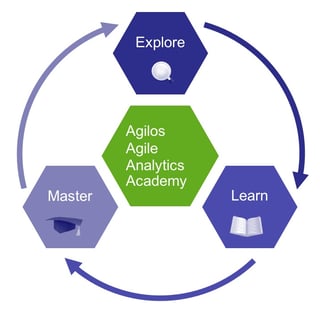 Qlik's offering, including QlikView and Qlik Sense, is leading the market of innovative BI and goes beyond what traditional BI can offer.
Since 2010, Agilos is a certified Qlik training center, and offers training courses for both QlikView and Qlik Sense users, developers, designers, and administrators. Building on our extensive experience with agile BI projects in large and smaller organizations, we started organizing workshops, focused on sharing our expertise and best practice with the Qlik customer community. Step by step we improved and optimized our training portfolio.
The next phase
Although we have received lots of positive feedback, we felt ready to go to a next level of training experience, offering a curriculum based approach that is not only better customized for different types of users, but also offers a learning journey that allows users to gradually become better trained at their own pace. We are proud to present our new training methodology, which we branded the 'Agilos Agile Analytics Academy'. This approach offers for all types of users a personalized training track and provides that training just in time.
The methodology contains three steps: Explore, Learn and Master.
Explore provides you with all the information a novice user needs to know, including end-users. Imagine you buy a new television with a super fancy remote control. If you are used to record your favorite television show every evening, you would like to know how to do that with this new remote control too. But also, because you bought new technology, you expect that you can do more than before. Only when you learn about the new possibilities of your new TV set, you'll get the maximum value from your new purchase. It are exactly those kind of things that we focus on, to make sure you get the highest (and quickest) return on your investment and minimize the learning time.
Learn. This phase will introduce you to the new technology in all its glory. You need to get familiar with a new development environment, learn new concepts and adopt (new) basic implementation steps. All you need to know to enable you to implement a first analytical solution. We make sure that you will learn and practice in such a way that you will remember what you have learned. That is where most traditional training courses fail. For this learning step, we have integrated best practices in this step of the curriculum, to tackle the forgetting curve.
Master. Irrespective of your profile, you will grow and bring your skills in your area to perfection. Whether you want to roll out your solution to a large amount of users, use big data sets, include location intelligence or predictive analytics, or learn everything about the administration of your environment, we'll train you to become a master. Our experts will bring the insights and skills that you need during one of the master sessions.
All this will be brought to you through a mix of different learning methods and media: classroom training, on-demand video, on-site workshops … We've developed the best possible mix, with the most convenient and fastest learning path in mind.
Curious how this fits your needs? Contact us and we'll define your company training track, taking care of individual specificities. In the meanwhile, we continue fine tuning our methodology and extending our Agile Analytics Academy with more and better. Get in touch with us today to assess your current skills and develop them further.