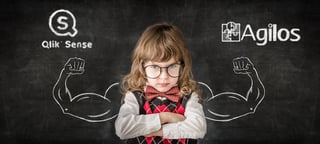 Do you know what a sunburst is? And how to create one in Qlik Sense?
There are currently two extensions to fulfill your wishes.
"Zoomable Sunburst with D3" by brianwmunz
"D3 Sequences Sunburst Extension For QlikSense" by Niceqlik
Both:
Demand two dimensions and one measure
Show you a colored sunburst
The 'Zoomable' allows to select a dimension but the dimension isn't highlighting. The 'D3 Sequences' repairs this problem and gives you an overview when you hover a dimension. It doesn't work anytime but it's an excellent idea! I like also the adapted caption in the upper-left corner. The consideration is that you cannot select via the chart.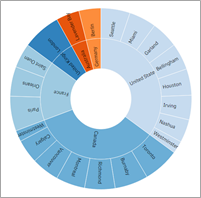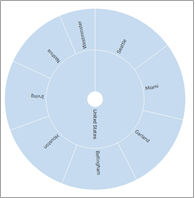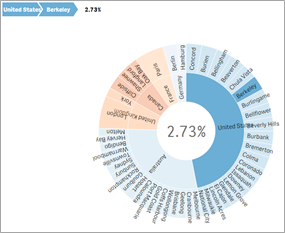 Unfortunately, I've also smalls critical:
Texts exceed out of cells
No color options
I also feel that the dimensions are inversed. Instinctively, I wish the country in center and the city after. When I add it in this order, I obtain the invers, so the city in center and country after.
Download it on
To add it to your Sense desktop environment, just unzip the files in your extension folder ("C:\Users\<MyUser>\Documents\Qlik\Sense\Extensions") and restart your Sense desktop.
To add it to your Sense server environment, upload the zip file directly from the Management Console.
Does this chart will enlighten your dashboard?
To find others highlighted extensions, search "Qlik Sense Extensions" on this blog.
Julie's Extensions