Agreement Allows Agilos to Promote TimeXtender's Discovery Hub®
AARHUS, Denmark & Belgium/Luxembourg – October 1, 2017 – TimeXtender, a software leader dedicated to democratizing access to corporate data, today announced their partnership with Agilos. This agreement allows Agilos to offer its new and future clients across Belgium and Luxembourg TimeXtender's Discovery Hub®, an integrated approach to IT architecture behind business intelligence.

"Through this agreement, Agilos can now help their customers implement Discovery Hub®, resulting in faster decision making and responses to business conditions. By partnering with TimeXtender, Agilos enables their customers to access trustworthy data instantaneously so that they can respond to a changing market without the delays typically associated with legacy IT systems," said Heine Krog Iverson, CEO, TimeXtender. "Agilos' success in the BeLux market and its focus on maximizing ROI of a customer's BI journey were key for us in choosing Agilos as a channel partner."
Discovery Hub® brings together the best of both worlds: governance and self-service. It enables business leaders to rapidly access and interpret data they know they can trust. And it frees IT from tedious and redundant tasks that can readily be automated. Unlike other approaches, which rely on a mix of tools and vendors for scripting, data prep, and data blending, Discovery Hub® is fully integrated, delivering faster time to value with fewer resources.
"At Agilos, we see more enterprises insisting upon increased data governance feeding visual analytics tools such as Qlik," said Gilles Hocepied, Managing Director, Agilos. "With Discovery Hub®, we can deliver fast, easy access, along with governance, security, and control. The impact is profound."
Traditional project work flows simply can't keep up with the volume, variety, and velocity of new data sources. That's why a new approach is needed. TimeXtender's Discovery Hub® is a metadata driven approach that leverages the power of automation to access model and govern data. The result is fast, reliable, and secured data, displayed in QlikView and Qlik Sense. The integration package also allows power users to independently and easily make changes and upgrades through drag-and-drop functions, also without IT support.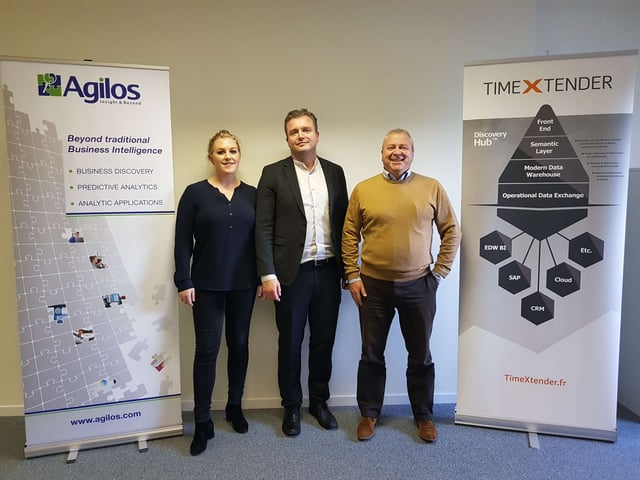 About TimeXtender:
TimeXtender, one of the world's fastest growing software companies, is democratizing access to corporate data with Discovery Hub® an integrated approach to IT architecture behind business intelligence. The company, founded in 2006, is privately owned and has headquarters in Denmark and the U.S., with more than 2,600 customers across six continents. TimeXtender is also the world's leading Data Warehouse Automation solution provider for the Microsoft® SQL Server®. The company sells its products for medium and large-sized organizations through a global network of channel partners. Visit TimeXtender.com for more information.
About Agilos:
Agilos is a leading provider of innovative BI expertise and solutions. We help you collect, prepare, associate and visualize your data, so you can discover, analyze and predict. Our mantra is 'Valorize your Data'.
As Elite Qlik partner, we are a reseller and provide expert services. In May 2017, we became the first QAP-qualified (Qlik Analytics Platform) partner globally and received the 2017 EMEA Solution Provider of the Year award. Our best-of-breed portfolio includes Qlik, Alteryx, GeoQlik, K4 Analytics, TimeXtender and several other innovative and complementary technologies. We also offer Analytic Apps for Healthcare, Accounting, HR, Sales & Marketing and Dealer Networks.
Our more than 350 happy customers include Atlas Copco, AXA, Engie, European Commission, KBC and Umicore, but also smaller companies such as Stuv, Viangro, Jost Group and Eurobus. Agilos has 30 employees and 2 offices in Brussels (Belgium) and Strassen (Luxemburg). http://www.agilos.com.