Since its foundation in Lund, back in 1993, the philosophy of Qlik has always been to provide their customers with innovative and intuitive software.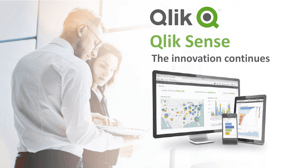 Why is Qlik so intuitive? Because the basic ingredient of the solution is the associative model: this is how the human mind works, through associations. No need for queries. No need for joins and complex table structures. The user just needs to associate what belongs together, and the Qlik engine will do the rest.
The second ingredient is innovation. They were the first to rely on in-memory analytics to explore data. Nowadays, everyone goes in-memory, because it is so much faster than disk access. But unlike the other providers who are plugging this in-memory approach in their existing technologies, Qlik has designed this in its core from the very beginning. This is what makes the engine so successful.
However, innovation is something that is constantly moving. The explosion of mobile devices and other connected objects, in combination with the rather static web browsing towards fully integrated interactive applications means that the front-end software providers need to keep track of these innovative changes.
Qlik has delivered on this promise by releasing Qlik Sense in 2014: built on their successful associative engine, this solution provides a very flexible platform that allows both guided and self-service data exploration, with the capability to integrate components within any web application.
Constant innovation with Qlik Sense
Qlik Sense is not a static release: the release plan is ambitious, both in its content as in its regularity. Every year, you will have 5 different releases: February, April, June, September and December. Every release brings new features and enhancements, but always with the same aim: keep the software simple to use and embrace innovation. Practically, to avoid any confusions in the releases, they moved from the confusing version numbering system (2.1, 3.1, 3.2, …) towards a more pragmatic version naming: "April2018, June2018, September 2018, …"
Based on this release schedule, Qlik has brought several innovations:
2014: Storytelling and interactive presentations
2015: Smart search and connected data market
2016: Visual search, time aware charts and web site integration
June 2017: Offline mobile application, self-service data preparation
September 2017: New innovative charting, on-demand applications
February 2018: Self-Service association suggestions
April 2018: Chart Suggestions, multi-layered geographical maps
June 2018: Qlik Cognitive engine, with automated chart generation
September 2018: Insight advisor, Qlik Core, Enterprise Data Management with Podium Data
Qlik Sense innovations in action
The motto of Qlik has always been: "Seeing is Believing". If you want to see the latest Qlik Sense innovations in action, we invite you to attend our Webinar scheduled on October 25th. During this webinar, you will experience step-by-step how Qlik Sense has brought innovations throughout the latest versions, and every capability will be shown through interactive demos. We will also look at the future roadmap and have the opportunity to ask questions.
Moreover, if you want to experience Qlik Sense by yourself, feel free to participate to our free Qlik Sense hands-on workshops.