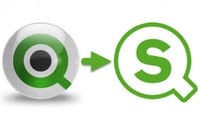 Qlik has announced the end of life for QlikView 11 in March 2018… Don't panic, QlikView is not going away: you still have the option to upgrade to QlikView 12. However, this will imply some effort. Why not take the opportunity to consider moving to Qlik Sense? Here are some keys to help you in this decision.
Understanding the differences
First of all, it's important to understand what we are talking about. QlikView and Qlik Sense are both Qlik products. So how different are they?
On one side, QlikView is built for centrally deployed Guided Analytics. In the past, QlikView has been used for some self-service and custom analytics applications, as well as reporting, but at its core it offers a development environment for the rapid creation of highly interactive guided analytics apps.
On the other side, Qlik Sense is an application built with more of a self-service However, when combined with the Qlik Analytics Platform, Qlik Sense Enterprise, it can be used for any use case, from guided to embedded analytics and report distribution.
Both tools rely on the associative model, which represents the main strength and added value of a Qlik application compared to other Business Intelligence tools: all the information is available to the end-user at all times. He doesn't need to query the data, he can just navigate within the data using associations.
However, when deploying QlikView, you will need a power user who creates and deploys predefined dashboards for the business user. With Qlik Sense, the business user will also be able to consume predefined dashboards, but next to that, he will be able to create his own content without any technical knowledge. This is possible thanks to some fundamental differences in the interface, more particularly through features such as responsive design and centrally managed master items.
Next to that, the responsiveness of Qlik Sense, and its use of HTML5 technology makes it very easy to integrate with other application front ends, hence making Qlik Sense objects directly available in internal enterprise portals and customer extranets.
So if I already have QlikView projects, what can I reuse in Qlik Sense?
The picture below shows the overall platform compatibility between the products. As mentioned, the data layer (also called associative model) is fully re-usable between both products – this is where a lot of the heavy lifting is done to bring data sources together, transform them, and prepare it for analysis. On top of this, because the engine is common, the two products allow for the same logic to be used for data and expressions when building analytics.
Moreover, Qlik has introduced a QlikView Converter utility (since version 3.2) which allows these objects, dimensions, expressions, and even visualizations where possible, to be automatically loaded from a QlikView app into a Qlik Sense app and populated in the master library for easy use. Going forward, Qlik will continue to strengthen the interoperability between the products, and more tightly integrate the infrastructure components. But even now, it is fair to say that you can achieve 70-90% re-use of QlikView development work.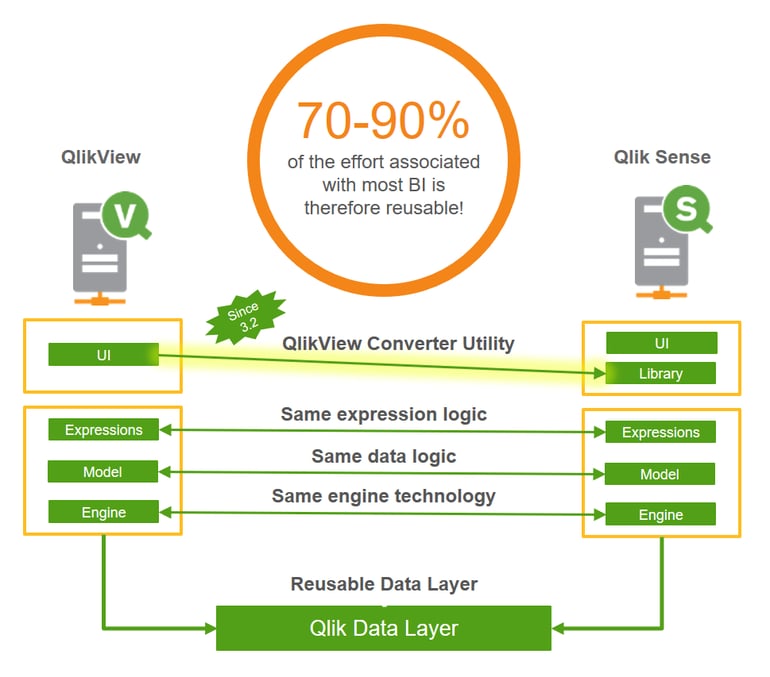 The QlikView Converter utility is available on every Qlik Sense installation, by going to the Dev Hub that you will find in the top right corner menu of the Qlik Sense hub interface.
If you want to see this converter utility at work, you can request a short demo video from Agilos here.
But can I do the same with Qlik Sense as what you did with QlikView?
If you consider moving from QlikView to Qlik Sense, the first question that comes to mind is: can I do the same? Since QlikView is a tool for guided analytics, it allows to create complex dashboard structures, with a lot of information available on the same screen. We call this information density.
It turns out that one can create fairly dense apps in Qlik Sense. The difference is that Qlik Sense will not show all the information at the same time, but will provide the information to the end-user by allowing him to interact. When a user expands a graph, he will see the visual representation revealing more data. The responsive design feature ensures that the information is always readable, as the visual will automatically resize and rescale to fit the screen, from smartphone to large display. Thanks to the responsive capabilities of Qlik Sense, the information density will only be revealed as the user needs and wants it, and depending on the device characteristics the user is using.
So, while Qlik Sense uses a different approach from QlikView for showing detailed information, it still achieves the same result, but in a smarter, more progressive fashion.
Two other points about information density:
QlikView apps have often been designed to be very complex, and this can be an opportunity to re-evaluate current UIs and question whether the user really needs all the information on a single screen. Sometimes less is more.
If the boundaries of the Qlik Sense User Interface are reached, you can still rapidly create custom, information dense applications using the Qlik Analytics Platform APIs. This is the purpose of the API layer, to allow organizations to build custom apps using standard developer skill sets.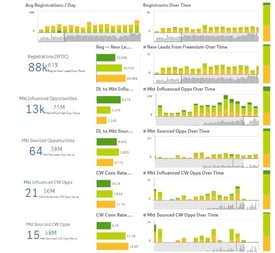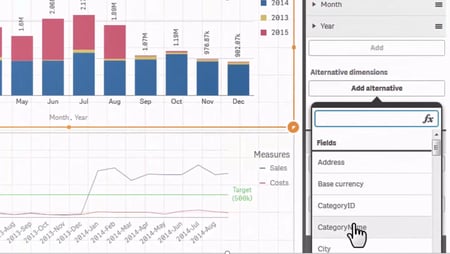 What is the best approach to move?
Once you have decided to move to Qlik Sense, you will probably ask yourself what the best approach is.
Here are 4 alternatives:
New projects – all new projects are deployed using Qlik Sense. All QlikView apps remain as-is.
Partial transition – In addition to all new apps, some QlikView apps are transitioned to Qlik Sense over time. Other QlikView apps that may be particularly complex to transition remain on QlikView.
Full transition – A variation of the previous one. This time all QlikView apps are migrated to Qlik Sense over time.
Big Bang – Everything is switched from QlikView to Qlik Sense at one time. From a user point-of-view, the scenario is that when everyone leaves on Friday, everything runs on QlikView. When they come back on Monday morning, everything is running on Qlik Sense. We would not recommend this method as there are so many tasks that need to happen simultaneously and problems will invariable rise… However, we can assist customers who opted for this approach.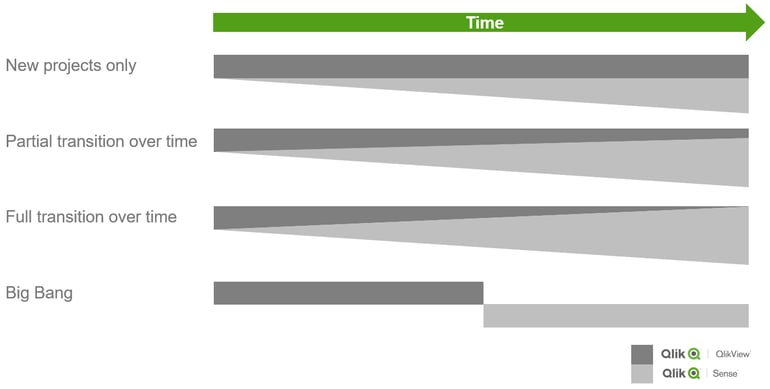 Qlik Sense projects can be shorter, and there are benefits that come with this approach. If one can deliver more projects faster, this will create a shorter time to value, a higher ROI and potentially increased revenue for the organization. Moreover, this will help you to react more quickly to ever changing end-user needs. It'as all about agility.
Note also that, because Qlik Sense covers more uses cases, you also have the ability to tackle bigger projects or projects that were perhaps beyond the scope of QlikView.

From a deployment perspective, your QlikView and Qlik Sense environments can co-exist and share their content, more specifically the QVDs (the Qlik Data files generated by QlikView). This means you can have Qlik Sense Apps running on your existing QlikView data models, or combining QVDs from these models with additional data gathered by Qlik Sense from additional sources.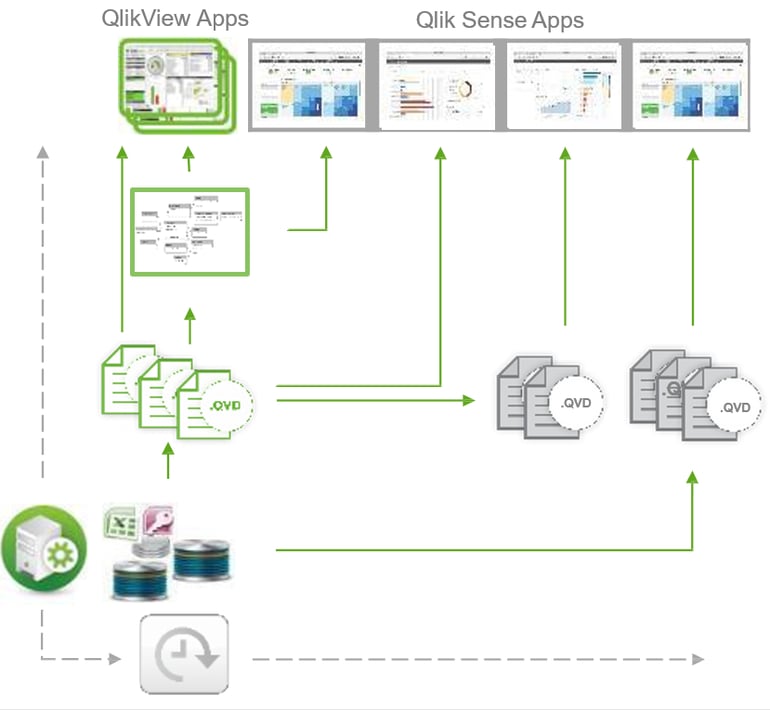 You want to know more?
If you want to know more, you can attend our next webinar on this topic. It has been scheduled on January 30th at 11AM and you can register here.
Agilos proposes also several service offerings to help you in your migration process:
Migration Assessment – This service offering will help you to develop an optimized migration strategy, understand which capabilities will be improved with Qlik Sense, and accelerate your migration process. Go here for more details.
Training – We developed a 1-day instructor-led course called "Qlik Sense for QlikView Developers" that will enable your existing QlikView developers to learn more about Qlik Sense, and be up-to-speed to support your new Qlik Sense projects. For more details, visit our education pages.