Agilos has decided to invest in a customer success function. But first, I want to briefly introduce the topic with a reference to an article about the link between customer success and Saas.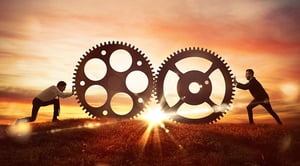 Jason Lemkin, a venture capitalist, wrote in 'Customer Success: The Definitive Guide' the following: "Customer Success has its roots in the Software-as-a-Service (SaaS) world and my original definition was very much SaaS-centric. But since then, companies that are not SaaS, or even technology companies at all, have recognized the transformative power of Customer Success and embraced it as their new operating model."
Let's now have a closer look at the Business Intelligence (BI) and Analytics market. In every industry across the globe there has been an explosion in the data available for decision making, and the corporate visibility and impact of BI projects is increasing. We want to help ensure that our customers are achieving the desired outcomes while using our products and services throughout their BI journey. Therefore, Agilos has decided to invest in a customer success function, and I'm happy to take up this role.
You might ask yourselves "is it only now that customer success has become important for Agilos?". Well you know the answer. Of course not! We've always focused our business on helping the customer turn his data into a strategic asset, but there are a couple of elements in the analytics market that are putting customer success in a different perspective.
Business impact
We're seeing a dramatic change in how companies are using BI and analytics. While BI initially focused on traditional reporting and dashboarding (and mainly giving visibility on the past), we now see more and more the potential business impact of analytics. Customers are using BI not just to take better decisions, but to get the proper insights to drive change and transform their business. BI has become a way to create competitive advantage and vital to business success.
BI maturity
More and more companies are moving towards an insight driven organisation. But evolving from just plain reporting to insight-driven business transformation doesn't happen overnight.
There are several BI maturity models out there. My favorite one is the Gartner model, defining 5 phases, going from spreadsheet and information anarchy up to a business strategy-driven approach. We help companies make that transition and become more mature in the usage of BI. The main purpose of our services is not just making another dashboard, but helping customers get more business value out of their data. It's about helping them to build the right architecture, setup a BI competency center where appropriate, and help the organisation become data literate so more people are benefiting from their BI investment. It's about getting more return, but also faster.
Also read my blog 'How innovative are you when it comes to BI?', which talks more about BI technology trends. Although that article dates from 2017, there aren't huge shifts. Most of the mentioned technologies shifted a bit to the right on the curve, and some other should be put on, such as Augmented Intelligence and BI as a Managed service, a trend we see happening right now.
Cloud … but especially Saas
While cloud architectures have become the norm for solutions such as CRM, it's only coming piecemeal to BI and analytics. An important reason is that companies are very concerned about putting their data in the cloud, especially when it is data that drives their decisions and their business strategy. But that is changing. From a technology and security perspective, there's no reason anymore not moving to the cloud.
But more importantly, we see a more important shift towards a managed service model. At the end of the day, a customer wants to focus on the business value of his analytic applications. Competitive differentiation does not come from having a good BI backbone infrastructure, but rather from how analytics can turn data into actionable insights that can transform businesses.
We got inquiries from many customers to help them in that transition, which is why we started developing last year a managed service model for BI and analytics. We launched in the beginning of this year BrainCloud, our Managed Service for BI, and we're happy to see our first customers reaping the benefits of our BI managed service model.
And how does this relate to customer success? Well, you can look at BrainCloud as the bundling of our many years of BI infrastructure management expertise. It keeps our finger on the pulse of a successful deployment and helps the customer focus on the business value of BI, rather than the infrastructure. It typically results in a higher ROI of his BI investments, and a shorter time to value. Meanwhile, we can help the customer on the business value side, and getting the acquired insights, in an easy way, to as many of his internal and external users as possible. It turns a customer's data into a strategic asset, faster.
And if the customer is not happy? Well, in a subscription model, or a managed service model, it's easier for a customer to quit. That keeps us sharp. The only way to make sure it doesn't happen is to make him successful. Customer success has become the lifeblood of our business.