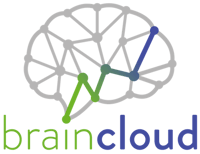 Agilos provides a fully managed Qlik environment. We take care of the entire cloud infrastructure, installation and management of the Qlik Sense environment. This offering is bundled with the Agilos security framework and our own management portal for user management.
Which products are available in BrainCloud?
The products we offer in our Managed Service Cloud are
Qlik Sense Enterprise, including Qlik GeoAnalytics and all Qlik Web Connectors
Qlik SAP Connector
Qlik NPrinting
QAP (Qlik Analytics Platform)
IN4BI PlatformManager
TimeXtender Discovery hub
What has been the main driver behind the BrainCloud offering?
Qlik has accelerated the Qlik Sense release cycle with 5 new releases per year. The main purpose is to bring innovation to its customers as quick as possible. As a customer however, it is not easy to keep up with all those new releases. The pace of software upgrades puts a high burden on the IT department. In BrainCloud, we do these upgrades for you. It allows you to focus all your time and energy on analytic business applications, rather than on the backend BI infrastructure. But it has many more benefits (see below).
What is the cloud infrastructure used for BrainCloud?
We use Microsoft Azure as the underlying infrastructure. We configure for each customer a dedicated, high performance cloud infrastructure, with fully configured load balancing and failover, 24x7 automated monitoring, automated horizontal and vertical scaling, and automated backup and recovery.
I already have Qlik Sense licenses. Can I benefit from BrainCloud?
Yes! For existing Qlik customers, we can offer the same managed service. We call this BYOL (Bring Your Own License).
Can I have a separate test and development environment in BrainCloud?
Yes, we offer a dedicated test and development environment, separate from your production environment. This also enables you to first test your applications on a new release of Qlik Sense. We also offer an Application lifecycle management solution, based on IN4BI PlatformManager, a collaborative development platform for better BI application governance. It gives you fully automated release management for your business applications, including Extensions, Mashups and Widgets, making every change traceable. It lets you save time in test project scoping and improved testing analysis capabilities. manages your.
What about GDPR, data privacy and identity access?
BrainCloud uses Azure Active Directory (Azure AD), Microsoft's cloud-based identity and access management service. Through the BrainCloud Management Portal (BMP), you can control who has access to your BrainCloud subscription and applications and invite your users to be automatically signed-in to Qlik Sense Enterprise (Single Sign-on) with their Microsoft accounts or any other type of email account (gmail, Outlook, ...).
Agilos adheres to privacy and data protection laws by implementing both security- and privacy-by- design methods in its management processes, including its subscription services such as BrainCloud. GDPR compliance is guaranteed through the usage of Azure AD for the management of the passwords and other private data of the users of the subscription. When subscriptions are purchased, we maintain like all businesses a database of customer and partner contacts for billing, marketing and other ordinary business purposes.
How does BrainCloud access my data needed by my analytic applications?
BrainCloud uses Web Connectors to connect to your private data in the cloud, or the Qlik SAP connector for SAP data. For on premise data, we offer a private Azure File Share to which you can upload data or use our automated data transfer solution to synchronize in a secure way your on-premise data with your Cloud BI applications. If required, we offer VPN access to your private BrainCloud environment.
What are the main benefits if I subscribe to BrainCloud?
BrainCloud Enterprise for Qlik offers you the power of Qlik, without having to worry about the technical implementation. You can focus on what you do best (your business), we do the rest.
Reduced workload for your IT department
Quick implementation (deployment in < 48 hours)
Secure & reliable
Financial flexibility (opex vs. capex)
Single point of contact (including end-to-end technical and functional support)
I'm not developing my own Qlik Sense dashboards but want to have a platform to deploy analytic applications for internal use and use by our customers. Can I do that with BrainCloud?
Yes, we've created a dedicated platform for this. While BrainCloud Enterprise gives each customer a private Qlik development environment in the cloud, we've created also BrainCloud Business, a SaaS deployment platform for Analytic Business Applications. This platform, based on Qlik Sense Enterprise, is a platform to deploy Analytic Applications that are developed and commercialized by Agilos or customer applications developed or co-developed by Agilos consulting services.
Our BrainCloud Business platform runs Qlik Sense Enterprise in multi-tenant mode. The customer will only have access to his environment, including his applications, users, groups and streams. The customer will be able to manage his applications, users and application access through our easy-to-use BrainCloud Management Portal (BMP).
Have you been certified by Qlik?
Yes, Qlik requires to follow a very rigorous MSP (Managed Service Provider) Competency and Qlik Sense Certification process. To receive the Qlik Elite MSP certificate, we had to do in-depth training and examination of 3 consultants, 3 technical support people, 3 techno-commercial people, 3 Qlik Sense Business Analysts and 3 Qlik Sense Data Architects. All those people need to be on the payroll and re-trained and re-examined every 12 months.