When you buy a car, your main objective is to enjoy driving your car. You don't want to spend time maintaining it, fixing it when it's broken, replacing your tires etc. That's what a garage is for. They have the equipment, and especially the know-how to do that.
The same should be the case when you're using Business Intelligence technology. Yo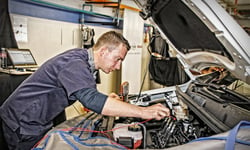 u want to develop reports and dashboards (or have them developed), and use them to get better insight in your business, so your company can become more productive, more profitable or more agile. Why would you invest knowledge and resources yourselves to setup the environment, chose the right hardware infrastructure, tune it, manage version upgrades and patches etc?
And this is what Agilos Smart Cloud is about. Using the power of BI, without the burden.
Agilos Smart Cloud will make your company smarter … and your life easier.
Watch this space for the official announcement. We're almost ready to rock 'n' roll!